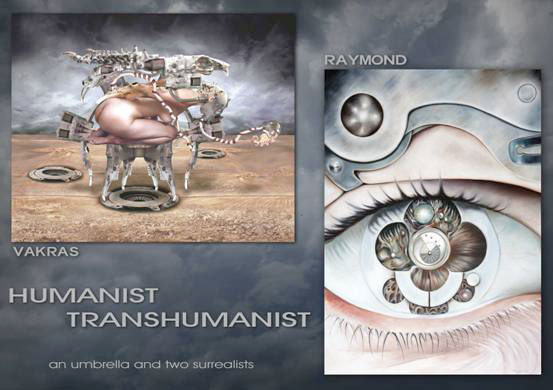 The publication Humanist Transhumanist was launched, or rather, was intended to be launched, on the opening of the exhibition of the same name held at a Melbourne gallery, Guildford Lane Gallery.
This exhibition became, as far as we are concerned, a fiasco, a fiasco with ongoing and ruinous consequences (how else can we describe the mounting legal costs which as I write this stand at $25,000.00 - $30,000.00?). The problems with this gallery are now part of a VCAT calim against it and its owner/director (the VCAT Tribunal file number for the case: C5251/2011)
The publication Humanist Transhumanist was discussed with the gallery in emails and then in person (December 2008 and January 2009 respectively). Reference to our publication was listed by this gallery on their own blog as an "accompanying catalogue - manifesto". This listing is still extant (as at 31/10/2011: http://glg-program.blogspot.com/2009_06_01_archive.html ), refer screenshot below: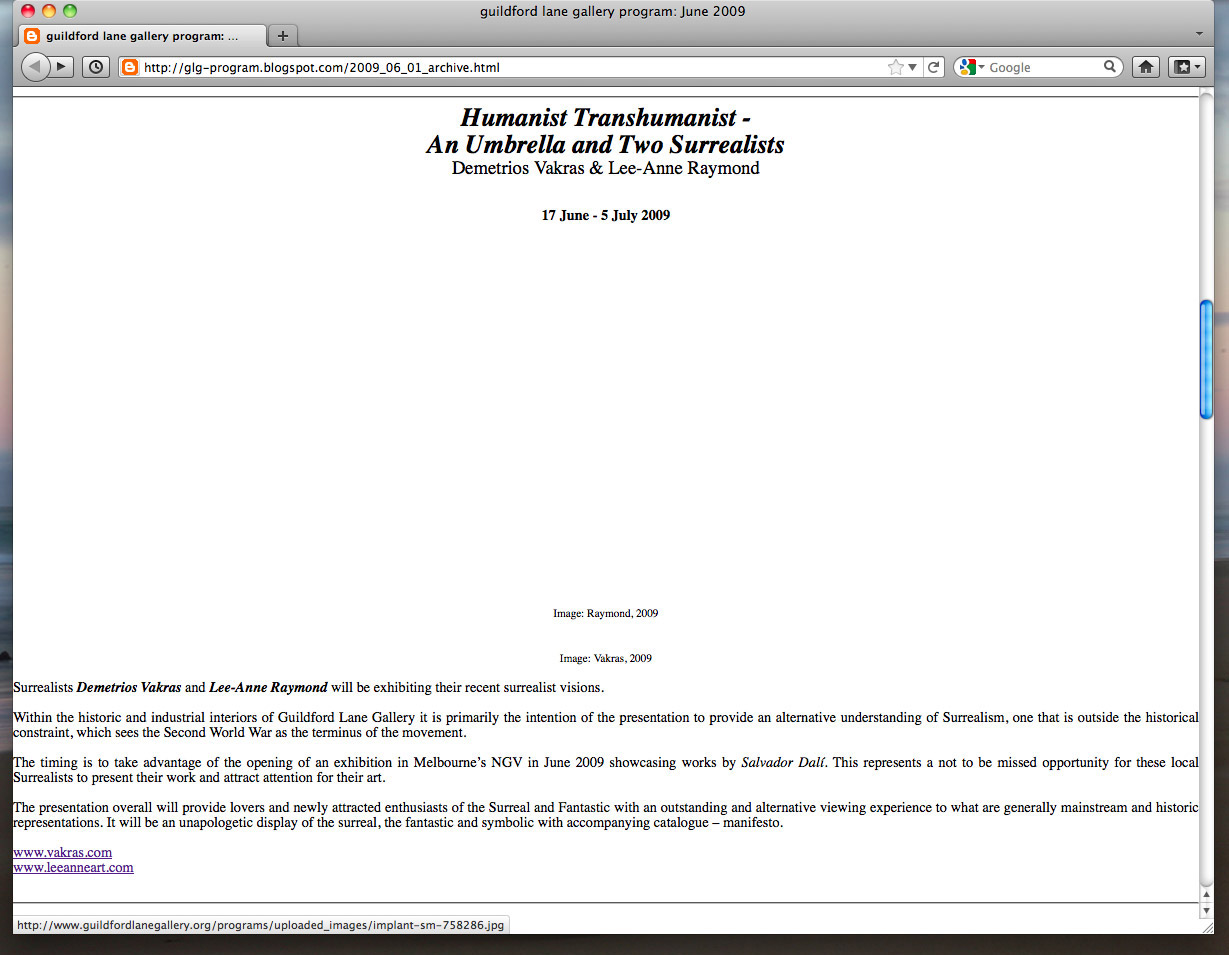 Shortly before the exhibition opening we were advised that our publication would "not be supported" by the gallery.
During the exhibition opening the gallery owner/director, Robert Raymond Cripps, took exception to elements of what was written in the publication (from which printed extracts were pinned next to the paintings they were associated with) and ordered us out of the exhibition that we had paid for. (Read the "offending" pages)
Ever since, Robert Raymond Cripps has caused us continual grief. We sought assistance from Australian Arts Law in 2009 over Cripps' actions during our exhibition, and of his actions (his refusal to pay us for works sold/bond) after the exhibition concluded; and we wrote about our seeking legal advice on our own sites. For this, Cripps is currently suing us on the grounds that he claims that the summaries of our experience with him, including mention that we sought legal advice, "defames" him.
| | |
| --- | --- |
| | Australian Arts Law Centre ( www.artslaw.com.au ) is a body that provides (or claims to provide) the Arts industry in Australia with legal support/advice. We sought their assistance in 2009. Cripps cliams that our writing that we sought legal advice defames him (even though ArtsLaw retain in their own records our request for assistance). |
And, not only does he claim that our summaries defame him, but that even our writing about his suing us for defamation defames him as well (One prior site host iinet - as per their email advice - pulled vakras.com/links.html, and leeanneart/events.html simply because we wrote that he is suing us for defamation. Iinet undertook this action after receiving notification from Cripps' lawyers - again, as per their email. Worse still, Australian telco Telstra disconnected us from the internet completely on the basis of demands made by Cripps' legal counsel. On our being dsiconnected from the internet by Telstra, someone during the cover of the disconnection, hijacked the domains vakras.com and leeanneart.com. The domain hijacking is still under police investigation. More on the domain hijacking can be read on www.cyberrefugee.com )
As truth is a defence for defamation, it seems curious to claim that writing that we are being sued for defamation is in itself defamatory. However, as a means intended to chill (censor) what is written it has been quite effective. Our previous two webhosting providers pulled our pages. One of these hosts pulled our sites completely. Telstra disconnected us from the internet completely. Our sites, have only just been fully re-enabled on a fourth host in October 2011.
- What did Cripps do?
Lee-Anne Raymond's account
Demetrios Vakras' account
Demetrios Vakras 10 September 2011, 2 November 2011.
We have since filed a claim in VCAT aggainst Cripps. The VCAT summary can be found here